Septic Inspection Merrimack, NH
Home Inspectors in New Hampshire & Southern Maine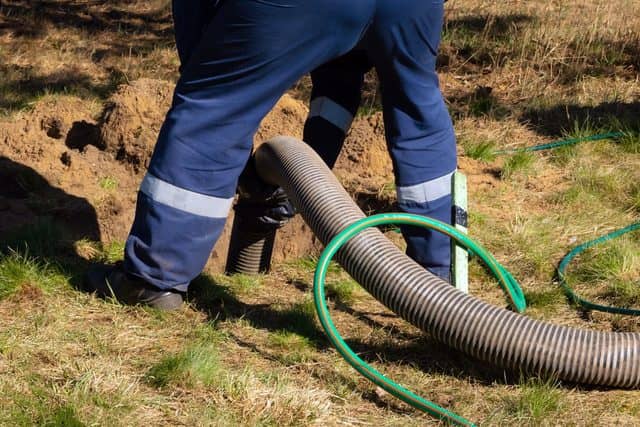 How We Grade Your Septic System
Alpha Building Inspections uses these general Definitions for all EDA (Effluent Disposal Area) types from the GSDI Field Evaluation Guidelines for the evaluation.
Good
A system is in its young or early middle age with no evidence of past flooding or high effluent. A young system would show little or no ponding in the EDA bottom in system types where the EDA bottom is observable.
Fair
A system is in middle age. A middle-aged system has ponding on the bottom. This is the normal working condition in many EDA types.
Poor
A system is nearing the end of its useful life under the current load. It is not yet failing. It may be in need of replacement, especially late in life. Systems in poor condition that have had little use or have been out of use may have more basic underlying problems that can't be overcome by repair alone.
Failing
The system meets the statutory definition of failure or, in the judgement of the evaluator, failure may be imminent.
Failure
[State Statute] 485-A:2 Definitions. – IV. "Failure" means the condition produced when a sub-surface sewage or waste disposal system does not properly contain or treat sewage or causes the discharge of sewage on the ground surface or directly into surface waters, or the effluent disposal area is located in the seasonal high groundwater table. If the system is in failure as per the definition, the evaluator will advise the client that he or she should contact a designer.
More Services
Sample Reports
Click on one of our sample reports below to view them.
Hillsborough County, NH
Strafford County, NH
Rockingham County, NH
Belknap County, NH
York County, ME
View All Service Areas
What do our customers say about us?
I was very pleased with the building inspection performed by Steve Mangekian of Alpha Inspections. I needed a company to perform an inspection on the commercial property we are purchasing, and Steve did a very thorough job, for a fair price. I'd recommend Alpha Inspections to anyone needing a home or commercial building inspection.

Robin D. Gelinas
I contacted Alpha for an inspection on a commercial building I was looking to buy. I was nervous about the process, Steve and Tom made me feel like I was in good hands. They pointed out the good, the bad, and the ugly. Some of the issues they noticed saved me thousands of dollars off asking price. I would recommend Alpha Building Inspections to anyone looking at residential or commercial property. Professional and educated in all facets of construction, Alpha helped my growing business take the next step.

Keegan D.
I had the opportunity to meet with Steve Mangekian recently when he inspected a commercial real estate building for me. I was immediately impressed by his professionalism and his knowledge. He spent a significant amount of time inspecting the building from top to bottom. He discussed some of his findings with me in person and had a written report in my hands within 24 hours, impressive! Thanks Steve for a great job. Well worth the fee that I paid to Alpha.

Dr David Caban