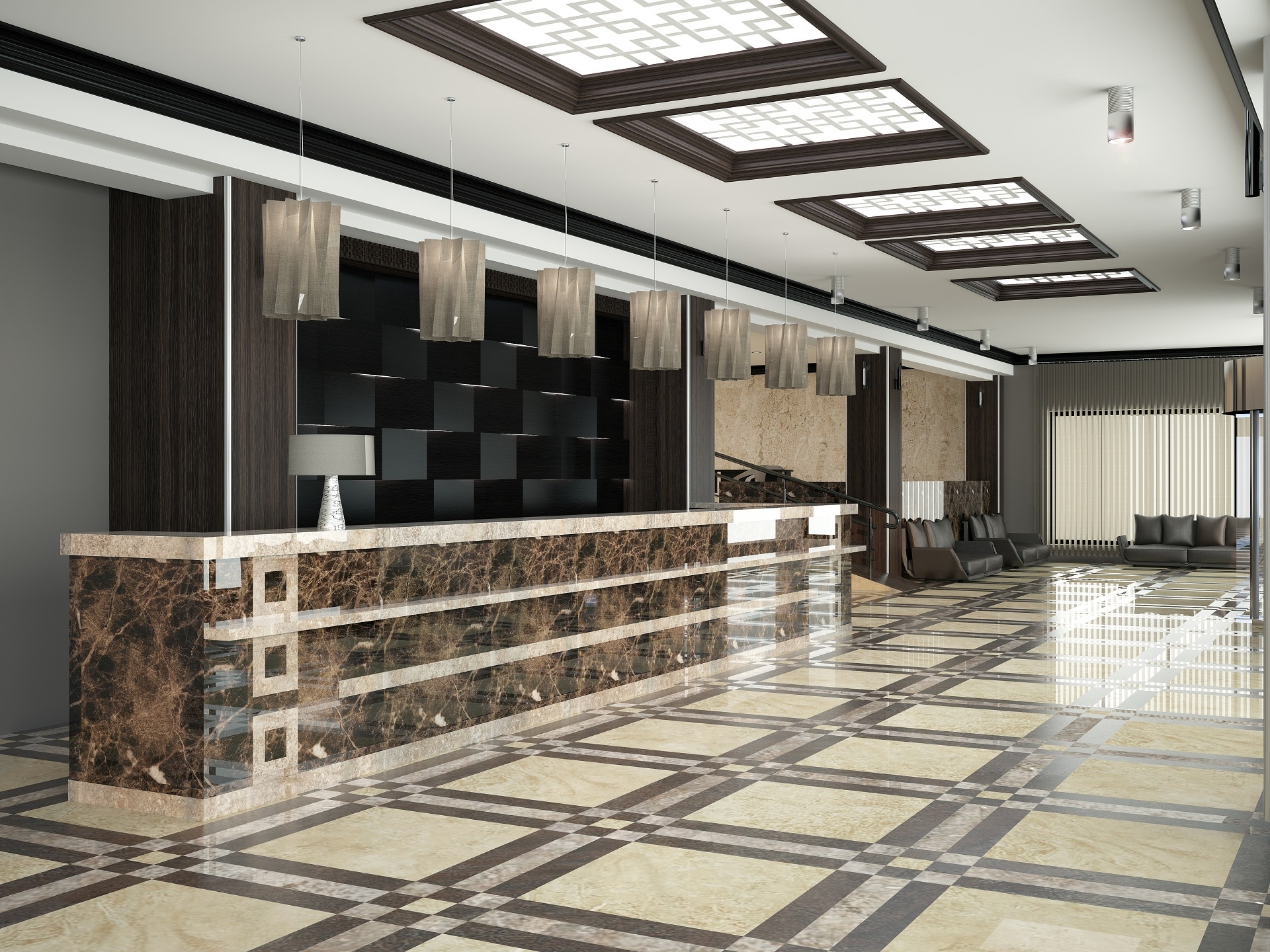 As they say, "You only get one chance at a first impression." That is why the lobby area of your commercial building has to be in tip-top shape.  
A Building Lobby Says a Lot About the Business in That Building
Without question, your commercial building's lobby – the first impression of your business – has to project the image, the tone, the style, and the feel of your business. For example, a law firm lobby tends to demonstrate professionalism, sophistication, maybe a little majesty to suggest the majesty of the law. By contrast, the lobby of your marketing company probably wants to present a feeling of creativity, of market savvy, and of thinking "outside the box." Yet, your local toy store will want to give a welcoming atmosphere of fun and imagination.  
As you can see, your business' lobby plays an important role in your company's branding. Accordingly, you want to be sure that when you are shopping around for the perfect office or business space, you carefully consider how the building's lobby plays into your business' image.  
And, when you find just the right commercial building space to purchase, you have to make sure that everything in the building is operational, including all aspects of the building's lobby before you sign on the dotted line. Of course, the way to do that is to engage the expertise of a seasoned property inspector in Boston and the surrounding region.  
In this article, we will talk about what an experienced property inspector in Boston, or in your region, would look at with regard to a commercial property's lobby area. If, after reading this blog, you have more questions about property inspectors in Boston, then we invite you to contact us at Alpha Building Inspections. We have the experience to put you at ease about inspection services and answer all of your questions. Call us at 603-816-1014 or request a quote anytime by contacting us online.       
Polished, Clean, and Uncluttered
A cluttered lobby, or a lobby that has safety hazards, is a huge red flag for a property inspector. A commercial building's lobby should, of all the spaces in the building, have the least amount of clutter. Thus, if a commercial building inspector comes across items that should not be in a building's lobby, then that sends a signal to the inspector that larger problems elsewhere in the building likely lie ahead.  
Even Lighting
Given that appearances arguably matter more in the lobby than anywhere else in a commercial building, an experienced property inspector in Boston will keep an eye out for even, consistent lighting in the lobby. The inspector may even recommend certain types of filters or reducers for the lobby lighting.  
Not only does lighting add to the lobby's aesthetics, but it is also an important safety issue. Thus, a lobby's lighting should always be on a commercial property inspector's to-do list.  
Metallic Thresholds
Entry doors, revolving doors, and other thresholds in the lobby typically have metallic guides on the floor and around the door. A building inspector will inspect all such thresholds for safety issues, for rust, and for wear and tear.
Glass, Caulking, and Weather-stripping
Lobbies tend to have a good amount of glass and windows in them. A commercial property inspector should be sure to check the caulking and weather-stripping of all windows to make sure the windows are properly secure, and can effectively keep the elements out.  
Security System
A building's security system and other devices can often be found in the building's lobby area. Indeed, security is vital at the entrance of any structure. Thus, a property inspector in Boston will make sure that all of the security devices and systems are fully operational.    
Security Guard Area, Delivery Entrance
Relatedly, the security guard area and delivery entrance of a commercial building must be also be 100% operational for the overall security of the building. Thus, a property inspector in Boston will focus on those aspects, given that security is the most important facet of a building, and all the security apparatus normally lives in the lobby.
Hazards from Special Features
Finally, many lobbies will tend to have interesting artwork, sculptures, and other attractive features. Such pieces, however, can pose special hazards for visitors and building occupants. Accordingly, a property inspector will pay particular attention to those special features that tend to be unique to a building, and tend to present unique hazards that need to be secured for people's safety.
Call the Top Property Inspectors in Boston– Alpha Building Inspections  
At Alpha Building Inspections, we understand how important it is that you get the most out of the purchase of your home or commercial property. We also know that you need to know everything about your property before buying. That is where our expertise comes into play. We can make sure that buildings are up to code.  
Once an Alpha inspection is concluded, you will receive an accurate, easy-to-read, professional inspection report that outlines our findings and recommendations. With our reports, we include digital photographs to document property deficiencies, when necessary.  
We are locally owned and operated. As a locally-owned and operated company, we have a direct stake in making the community grow and prosper. Also, we are supported by a well-respected international company. Indeed, Alpha Building Inspections, founded in 1987, is one of the oldest companies in the industry. 
Our reputation is built on standards of honesty, integrity, and professionalism. Our inspectors are required to attend two weeks of training prior to beginning their business. Continuing education is offered during an annual meeting each November and monthly technical bulletins are offered to keep inspectors up-to-date on the most recent inspection news. Training covers all necessary technical topics, including:
Plumbing

Electrical systems

HVAC systems

Roofing

Insulation

Foundations

Siding and other exterior components

Ventilation

Decks
We hold ourselves to the highest standards. Our inspections meet industry-accepted standards of practice. These standards are taught during the Alpha Building Inspections initial training course and are updated as needed. Please feel free to ask for more details about our standards of practice.
We are fully insured. We carry Errors and Omissions (E&O) and general liability insurance. Finally, we are experienced. Initial training and continued education provided by the corporate office give us opportunities to learn and grow. Our backgrounds and drive to provide the most thorough commercial property inspection in Boston in the industry mean that we're constantly gaining new knowledge for use on the next inspection.
To learn more about professional commercial inspectors in Boston and the surrounding area, please contact us at 603-816-1014 or request a quote anytime by contacting us online. Contact us today.